Thank you sweet baby Jesus for hump day! This mama is exhausted from school! So I'm linking up for So What Wednesday!!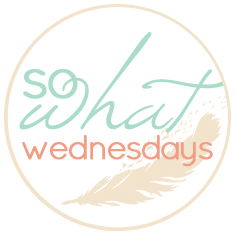 * So what if I'm too tired to stick to my cleaning plan. I mean who has time for a clean house anyway?! Not this chicka! Bring on the wine and bubble bath, because ain't nobody got time for cleaning.
* So what if every time I watch Pretty Little Liars for days I feel like "A" is everywhere. Have I mentioned that I HATE being scared!? And seriously!? Ezra is A!? I can't wait till October!
* So what if I gave up on potty training until October. This summer was terrible and we are gone half the month of September. I will conquer this in October!
* So what if one of my goals for next week, will be to go to bed before 9! Teaching is exhausting! Come try it out for a day if you don't believe me!
Have a great rest of the week!! Follow me on Instagram and MyFitnessPal at cdecker0