Linking up for So What Wednesday!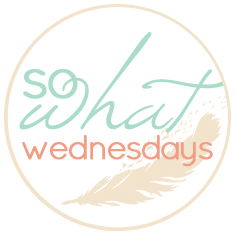 So what if all I can think about is getting my new dress from

The Zig Zag Stripe

, and how I'm so sad it won't be here for the first day of school. Go check out their amazing clothes! They come in plus sizes too!!

So what if the Princess wore her PJ's to daycare twice this week. She looks so darn cute in the mornings I hate waking her up!!
So what if I haven't weighed since before I went on vacation, a week and a half ago. I am all with Amber over at

Crafty Healthy Mom

- you must start eating healthy on the first of the month! So September 1st I will be back in action!!
Go link up with Shannon today for So what Wednesday and check out her super cute new addition!
As always, follow me on Instagram and MyFitnessPal at cdecker0