Getting back in my blogging groove with a link up for So What Wednesday!?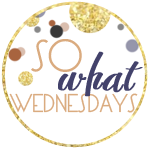 * So what if I purposefully skipped my WW meeting last week because I knew I had gained weight. I tracked every day except for Saturday and Sunday this week so I'm hoping I am in for a loss!
* So what if I haven't excersised since August. Things are about to change around here. The husband and I started the 30 Day Shred on Monday so here's to being sore and barely able to walk for the next 30 days. It is all worth it!!
* So what if I can't stop thinking about Black Friday, even though I need nothing.
* So what if on Wednesdays all I can think about is Fridays. I get to wear jeans on Fridays so it's the one day of the week I don't have to think about what I'm going to wear.

* So what if all we have eaten for dinner this week is different types of soup. It's an easy meal and goes in the crockpot!
Hope y'all have a great Hump Day!