It's Hump Day Y'all!! Which means!?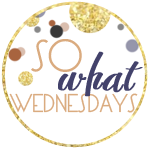 Linking up for So What Wednesday!
SOOO What!!!
* If the Princess has worn these pajamas 3 nights in a row. However she will get to bed I'm down for!
* If I decided not to buy any clothes for the Princess and I until Black Friday, and then went shopping last weekend. I have decided to start over! So as of October 13th I will not buy clothes for the Princess and I.
* If I'm already buying Christmas presents. It's expensive to buy gifts for everyone and the only way I can manage is to spread it out. I hope to be done with all my gift buying by Black Friday.
* If I'm refusing to buy a Halloween costume this year. Halloween is stressful for us if it's on a school night because we have to drive 30 minutes to see family and more family and then don't get home till late. This year we have decided to stay home and people can come to us. I bought the Princess a super cute dress from Zuilly and that will be what she wears.
* If I went WAY over my weight watchers points limit this weekend. It was our 5 year anniversary and I ate like I hadn't eaten in 5 years. I will kick it in gear next week. My goal is to lose 15 pounds by Thanksgiving.
Hope you all have a great Hump Day!! Go STL Cardinals!!