I'm SOOO over this week! I really just want to be a fat lard for the next two weeks and eat all my feelings since school starts in TWO weeks and I'm stressed to the max!!
So on to SO what Wednesday!!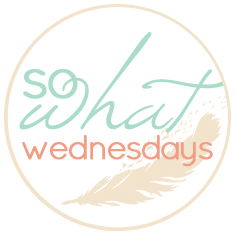 So what if school starts in two weeks, and I am refusing to go to school to set up.
So what if my August goal was to do the 30 day shred for 30 days and it's August 6th and I've done ZILCH! I've thought about it! Does that count??
So what if I should be cleaning my house and packing for vacation, but instead I'm sitting on the couch blogging and watching Pretty Little Liars (I may or may not be addicted.)
So what if I bought three new dresses this summer and haven't worn them once. I may or may not have been a little optimistic about the sizing. Can I just say this has been a horrible weight loss summer!
I hate to be ungrateful for my awesome teaching job and having summers off, but it has seemed like the longest yet shortest summer of my life. I love spending time with my daughter and love being able to do whatever I want, but I am also ready to get back to my routine! I have to get this weight off. I have to become healthy and I have to quit making excuses!