Good Evening Y'all! I'm a day late for my weekly goals, but I had a busy day yesterday and this is the first time I have been able to sit down and write.
I am doing the 30 Day Shred Challenge with Amber from a
A Crafty Healthy Mom
, and don't want to brag but I KILLED it last week. I bumped it up to level 2 on Monday ahead of schedule because I wasn't sore anymore and felt like I needed a challenge. It was definitely a challenge! At some point in the video Jillian says she wants you to feel like you're going to die, and I DEFINITELY did!
On Wednesday of last week I decided I wanted to run that evening. So I laced up my shoes and just started to run. One of my July goals is to be able to run a half mile without stopping and down and back on my street is a half mile. I started running and it just felt different. It felt easier, I wasn't winded, and even though my legs were SOOO sore from the 30 day shred I just kept going. I RAN A HALF MILE WITHOUT STOPPING FOR THE FIRST TIME EVER THAT I CAN REMEMBER!!!! I have never been so excited in my life. I almost cried! I stopped running then at the half-mile, but totally felt like I could have probably gone longer. On to Thursday, it was a super nice morning so I got up and busted out ONE MILE!!! I stopped once to take a drink, but then went right back to running. I'm so proud of myself to have accomplished this. I hadn't really been running, since doing the 30 day shred but I really feel like it has helped improve my lung capacity and endurance.
I took Friday off from doing anything because I have been feeling super light headed, but Saturday I busted out a mile and a half. I will get back to doing the 30 day shred today since I kind of took a hiatus, but honestly I can feel my body changing. I didn't lose any weight last week, but my monthly friend came to visit me on Saturday so I'm hoping it was making me retain water or something.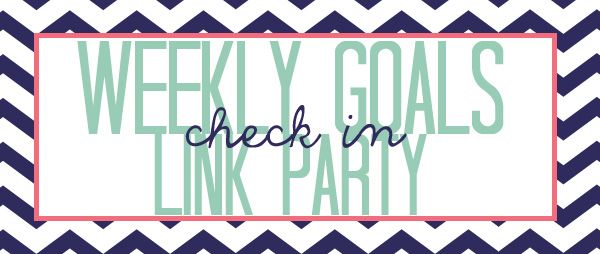 Today I'm linking up with
Operation Skinny Jeans
for my weekly goals!
Goal One: Do level two of the 30 day shred every day this week! Monday-Sunday. We are almost done with the 30 days and I HAVE to finish strong!
Goal Two: Drink Water! I feel like I have been drinking a lot of water, but in reality it is only like 8 cups a day and for my body weight I need a lot more!
Goal Three: Make good food choices and track everything on
MyFitnessPal
!