Linking up today with Holly and Jake for Finish the Sentence!!!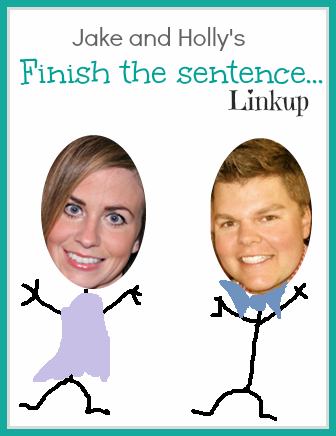 If I had one extra hour in the day.. I would sleep! Can we say TWO YEAR old!?
I wish my name.. was Princess! There was a student last year that we had whose name was Primcess. Do you know how awkward it is to say, "Princess get in line." "Princess raise your hand." I want it to be super awkward for the nurse at the doctors office to say, "Princess time for your appointment".
I think anything chevron is pretty much amazing. However, I tried to chevron a wall in the playroom.
Epic Fail!!
It wasn't a
Skinny Meg
masterpiece that is for sure!
My last nightmare... I'm always falling off something.
Sometimes.. I randomly fist pump while driving when a really good song comes on. I'm pretty much the next big thing.
My last meal on earth would be sushi! I'm addicted!
I'd much rather be fat with boobs than skinny with a chest bone sticking out.
Mayonnaise is a must on a B.L.T. Sandwich!
10 years ago, I didn't think I would have a two year old.
Selfishly, I love laying in the bathtub and catching up on blogs while the husband puts the Princess to bed.
My favorite TV show right now.. I can't even decide. I puffy heart Real Housewives of New Jersey and the O.C. I am also addicted to Pretty Little Liars, Jimmy Fallon, and Ellen!