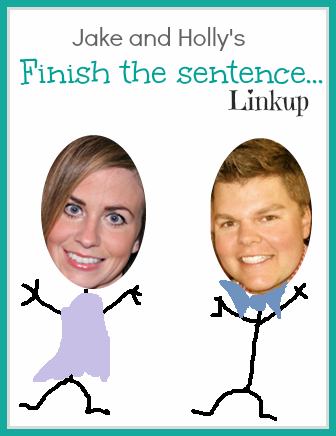 Linking up with Jake and Holly today for Finish the sentence..
Unlike my sibling (that I love very much).. I got common sense. I love this girl like I love my daughter, but seriously sometimes I wonder how we were both born from the same parents. True Story - She calls me crying after leaving work because she can't remembered if she locked the door. So I said, "Are you still there?" Her reply, "Yes." Sooo why don't you go back and check the door!?! Come on now!!
My best friend says..
People call me.. I love it when you call me big poppa.. Throw your hands in the air if your a true playa' Oh wait..
I most often dream.. that I am a Real Housewife, with lots of money, and a super rocking job where I get to do whatever I want and wear whatever I want. Hey we can dream right!?
The best part of my day...
I REALLY don't understand ..
all this internet blog drama! For real girls, are we in high school? There are some mean people out there who hate on good people for no reason. It's crazy ridiculous! Get over yourself mean people!
I get really annoyed..
when I'm finally trying to relax in the bathtub and read all my favorite blogs and my husband comes in to talk. Am I the only one that just needs some alone time!?
There's nothing like a..
good bubble bath!! See above. I am in LOVE with my bath time. It's the second best part of my day.
Lately, I can't get enough..
BRAVO and Andy Cohen! I love all those Real Housewives, Married to Medicine, the list goes on and on. I could probably watch that channel all day long if I was given the time.
One thing I am not..
Is rich. Sad day! :(
I spent too much money on...
So this one time I went to a wedding show while engaged. I got a phone call from someone after the show that said if you went to this pots and pans demonstration they would give you a free 3-day 2-night vacation stay with no obligation to buy. Well let me just tell you the food they cooked on those pans was FREAKIN' amazing! BEST CHICKEN I HAVE EVER TASTED. Needless to say we spend $3,000 on pots and pans. BUT they have like a 3 generation guarantee or something.. So ashamed!!
I want to learn..
how to get skinny while eating Taco Bell. Remember when they had the drive thru diet for half a second!?!
If I ever met Skinny Meg in real life, I would buy her a drank!!
I can't stop
.. drinking diet coke. It is the only thing besides coffee that gets me through my day with my 22 lovelies.
Never have I ever
bought Mt. Dew in a public place where people know me. I have a theory about people who drink Mt. Dew (even though I SECRETLY love it!!)
Reese Witherspoon..
You are a big deal girl! If I was rich and famous I would pull that line all the time, "Do you KNOW who I am??" I'm the fun fat chick and this is going to be all over the news!