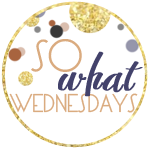 This week I'm saying SO What!?! to...
1. So what if I haven't blogged in AGES! I'm back in business. It's something that I truly missed, and although it is hard to keep up with during the school year I REALLY want too!
2. So what if we now have 3 cars and only two drivers. The dealership tried to give us $1,500 for our car and I was like NO WAY! We will sell this thing on our own! Meanwhile I'm rollin' in this baby..
3. So what if this kid has eaten more sweets this summer than she's eaten in her whole life. She literally takes two bites and she's done, and she looks so stinkin' cute when licking a cupcake!!
4. So what if I've tried all summer to perfect this hairstyle and still nothing. I'm not giving up!!